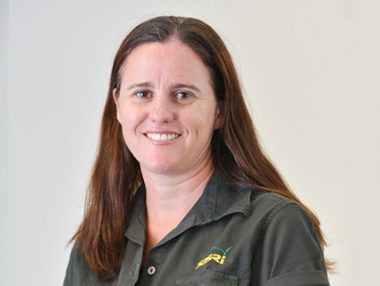 Role
To act as a flexible specialist assistant supporting the research activities of a number of groups in the Variety Improvement Programme by providing high quality technical expertise in molecular biology and bioinformatics. Support is targeted at research related to gene expression analysis and genomics with a strong focus on Bioinformatics.
Expertise
Specialist Molecular Techniques: PCR, qPCR, molecular cloning, Gene expression analysis, DNA sequencing.
Bioinformatics: analysis of NGS data, genome assembly and annotation, RNA-seq.
Research Interests
Development of methodologies and pipelines for RNA-seq data analysis in sugarcane.
Sugarcane genome assembly using the BAC-by-BAC approach.
Identification of novel tissue specific promoters.
Key Publications
RM Jacob, BAM Potier and D Lloyd Evans (2016). Towards a reference sugarcane transcriptome: Increasing ESTs to full-length transcripts using available genomic resources. SA Genetics Society and SA Society for Bioinformatics Joint Congress, 20 – 23 September 2016, Durban, South Africa (Poster).
BAM Potier, Jacob RM and Lloyd Evans D (2015). Integrating transcriptomics and expression analysis: the SASRI approach. ISSCT Joint 11th Germplasm and Breeding and 8th Molecular Biology Workshop, 1-5 June 2015, Saint-Gilles, Reunion Island.
RM Jacob, DL Sweby and A Brass (2014). Analysis of subtracted cDNA libraries: the regulation of photosynthesis through sugar signalling in sugarcane. SA Genetics Society and SA Society for Bioinformatics Joint Congress, 23 -26 September 2014, Pretoria, South Africa (Poster).
Potier BAM, Makome SL and Jacob RM (2012). Leaf and Root-Specific Sorghum Promoters Whose Transcripts Are Also Tissue-Specific in Maize and Sugarcane. Plant and Animal Genome Conference XX, 14-18 January 2012, San Diego, USA.
Qualifications
BSc Hons (UKZN) Genetics and Biochemistry.
MSc (University of Manchester) Bioinformatics.