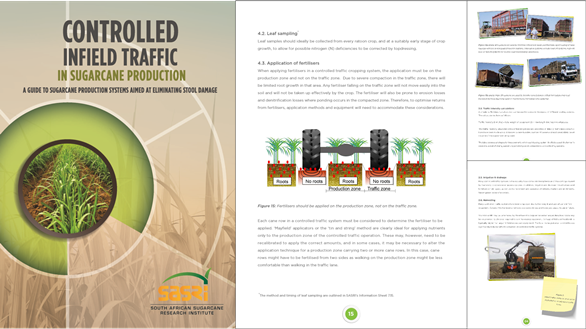 SASRI's latest publication, 'Controlled Infield Traffic in Sugarcane Production' is now available for download.
The term 'controlled traffic' refers to a system that keeps wheels away from the sugarcane stools and restricts them to the traffic zones where compaction is less harmful to the ratooning crop. The reason for this is simple: sugarcane stools suffer damage when driven over, resulting in significant yield losses.
This booklet starts by dealing with the two major areas where fundamental changes have to be made when moving to a controlled traffic system, namely, FIELD LAYOUT and MECHANISATION. Other farming operations that may have to be modified are covered in the FERTILISATION and IRRIGATION sections.
Farmers will benefit economically from a controlled infield traffic system because of reduced stool damage, reduced weed control costs, increased number of ratoons and increased yields.