SASRI conducts research and provides services to minimise the effects of diseases on crop production. While many diseases affect sugarcane, five are common and are regarded as particularly serious, having a major economic impact on the crop. These are ratoon stunt (RSD), smut, mosaic, and brown and tawny rust.
All our advice and information on disease control can be found in the various publications, videos and services described below.
9.1 Ratoon Stunt (RSD)
Ratoon stunt, formerly known as ratoon stunting disease (RSD) can cause substantial yield loss. This important bacterial disease occurs throughout the sugarcane industry although infection levels differ widely from region to region. Being a legislated disease, RSD must be managed according to the rules prescribed by the Local Pest, Disease and Variety Committee. The disease often goes unnoticed because there are no easily recognisable symptoms. The disease can only be reliably identified by submitting samples to a recognised RSD diagnostic laboratory for testing.
9.2 Smut
Sugarcane smut occurs throughout the South African sugar industry but is most common and severe in the northern irrigated areas and Zululand. Being a legislated disease, smut must be reported to the Local Pest, Disease and Variety Control Committee and must be managed according to the rules prescribed by the Committee.
9.3 Mosaic
Mosaic is most common in the cooler, southern and high-altitude inland areas of KwaZulu-Natal, but serious outbreaks can occur periodically in all parts of the industry. Being a legislated disease, mosaic must be reported to the Local Pest, Disease and Variety Control Committee and must be managed according to the rules prescribed by the Committee.
9.4 Sugarcane rust
Two types of rust currently infect sugarcane in South Africa. Brown rust has been in the industry for many years while tawny rust is a relatively new disease of sugarcane that currently only occurs in southern Africa. Orange rust occurs in most sugarcane industries around the world but has not yet been reported in South Africa. All three forms of rust can cause serious yield loss when severe. Registered fungicides are available for the management of brown and tawny rust in southern Africa and form part of SASRI's orange rust incursion plan.
9.7 Pineapple Sett Rot
Pineapple sett rot is caused by a soil inhabiting fungus. Poor germination may occur when seedcane becomes infected after planting under unfavourable conditions or after hot water treatment.
9.8 Pokkah Boeng
Pokkah boeng (a Javanese term for twisted top) is a common and generally mild disease, the symptoms of which can be seen on most South African varieties. Susceptible varieties can, however, be severely affected. It is caused by a complex of common Fusarium species.
9.10 Yellow Leaf Syndrome
9.11 Inspecting for diseases and off-types
Field surveys to determine the incidence of important diseases such as smut and mosaic are an essential part of successful integrated management strategies for these diseases. SASRI Biosecurity teams conduct these surveys routinely, but growers are also encouraged to inspect their fields regularly for diseases.
9.12 Roguing
The removal of diseased plants from the field (roguing) is an important measure for the management of smut in commercial fields. Roguing is also an essential, routine practise for the removal of stools infected with systemic diseases such as smut and mosaic, as well as off-types from seedcane nurseries.
Sugarcane Diseases in Southern Africa
Disease control in sugarcane and the maintenance of optimum productivity depends on planting resistant or tolerant varieties; planting good quality, disease-free seedcane; eliminating volunteers before replanting; inspecting and roguing cane fields regularly; eradicating severely infected fields; and managing the crop well. The various diseases occurring in sugarcane in southern Africa are described, together with recommendations for their control.
Pest and Disease Guide
This is a handy pocket guide for easy identification of pests and diseases occurring in the South African sugar industry. The guide comes complete with pictures, descriptions of symptoms and brief related notes, and is available in both English and IsiZulu.
English | isiZulu
Seedcane Production
Planting good quality seedcane is a crucial step in profitable sugarcane production, reducing the incidence of serious systemic diseases such as ratoon stunt (RSD), smut and mosaic in commercial fields. By March 2023, only Certified and Approved Seedcane may be used to plant commercial fields in South Africa.
This manual outlines the importance of good quality seedcane and the procedures that need to be followed to produce Certified and Approved Seedcane.
Fertiliser Advisory Service
Tin and string fertiliser application
Knapsack fertiliser application
Fertiliser Advisory Service
Tin and string fertiliser application
Knapsack fertiliser application
Helping you calculate fertiliser distances at the touch of a button!
A 'Fertiliser distance' is the distance that a given amount of fertiliser must cover in order to achieve the recommended rate per hectare. Whether you use the tin-and-string method, or wish to calibrate the flow-rate of a knapsack fertiliser applicator or some other application equipment, FertiCalc will simplify the process.
The app is available for free download from the Google Play and iPhone App stores.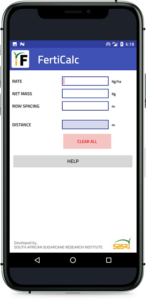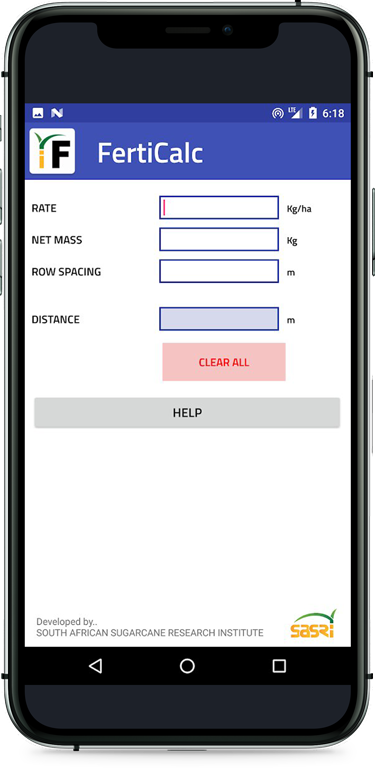 Sugarcane Diseases
English | isiZulu
Rust Identification
English | Afrikaans
Rust Biosecurity Alert
English  |  Afrikaans
Maize Streak Virus
Pokkah Boeng
Mosaic
Stalk and Sett rot
Sugarcane smut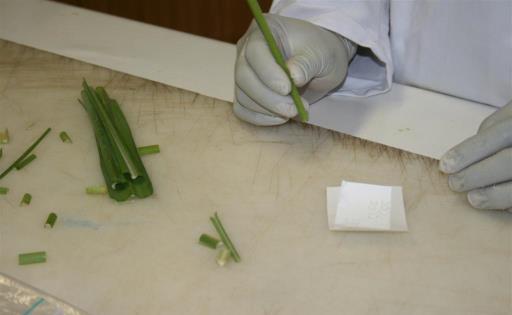 Ratoon Stunt (RSD), a major sugarcane disease which causes substantial yield loss, can only be reliably diagnosed in a properly equipped laboratory. SASRI offers a diagnostic service to farmers and also provides advice on the management of the disease.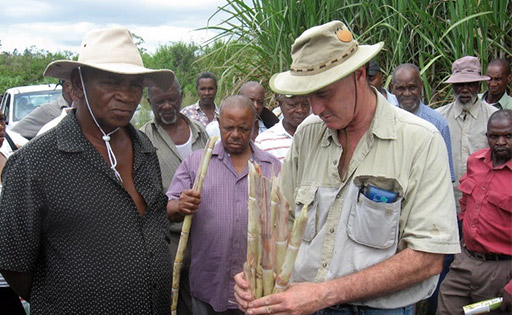 Together with Local Pest, Disease and Variety Control Committees, SASRI acts to monitor diseases and implement procedures to mitigate damage and loss. They also ensure that only gazetted varieties are planted in each control area.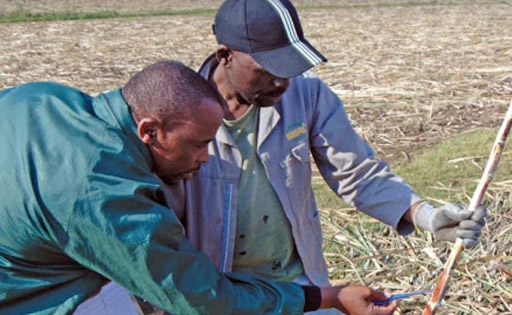 Service to investigate new products on behalf of commercial companies to facilitate registration. Investigations can include testing of herbicides, fungicides, ripeners, fertilisers and pesticides.
Research in Disease Control investigates the biology and ecology of the primary pathogens of the industry and their impact on crop yield, with a view to developing management strategies. Visit CROP PROTECTION for more info.