The SASRI Herbarium is a specialist collection of over 75 dried specimens representing genera closely related to sugarcane with a living collection of 2 659 sugarcane cultivars and sugarcane relatives, focusing on the Saccharinae. An extended living collection of over 300 species native to or naturalised in KwaZulu-Natal, South Africa is also available on the campus. We are estimating around 100 species of grasses on the site, which will be surveyed during flowering season.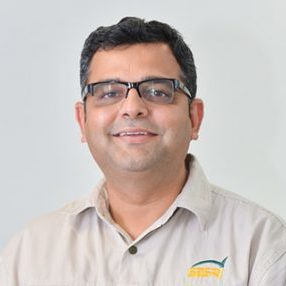 Dr Shailesh Joshi
Plant Breeder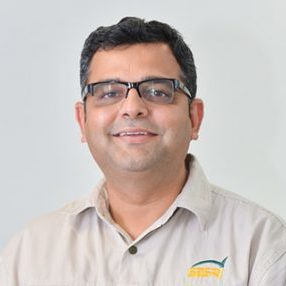 Role & Overall Purpose
To develop and implement innovative research by developing new strategies to best utilise novel molecular genetic methods and information in combination with quantitative genetic theory in order to improve the efficacy and cost effectiveness of the breeding programmes.
To implement new strategies by using molecular markers in planned crossing and selection programmes ensuring integrated approaches trait improvement across breeding programmes and important traits.
To manage the long-term sustainability of variety improvement through the use of molecular markers to enhance introgression of new germplasm into the commercial breeding and to assess the potential of novel variety types for alternative uses of sugarcane.
Expertise
Introgression breeding of yield improving traits and for disease resistance from wild relatives of crop plants.
Marker Assisted Selection, experience in working with molecular markers.
Designing and execution of crossing and selection programmes.
Research Interests
Marker Assisted selection in sugarcane.
Gene identification and discovery in sugarcane through functional and comparative genomics.
Key Outcomes
Planned crosses for resistance breeding based on parents molecular marker types. Molecular breeding for resistance to pest and diseases.
Key Publications
Joshi SV, Zhou M and Keeping MG (2012) Comparison of natural versus artificial inoculation methods for Eldana resistance screening in sugarcane. Proc S Afr Sug Technol Ass 85: 246-255.
Marvellous Zhou and Shailesh Joshi (2012) Trends in Broad Sense heritability and implications for sugarcane breeding in South Africa. Sugar Tech 14 (1) : 40-46.
Marvellous Zhou, Shailesh Vinay Joshi and Tracy Maritz (2012) Trends and implications of genotype by environment interaction in South African sugarcane breeding. Journal of Crop Improvement 26:1–14.
Zhou M, Lichakane M and Joshi SV (2012) Family Evaluation for quality traits in South African sugarcane breeding programmes. Proc S Afr Sug Technol Ass 85: 221-226.
Zhou M, Joshi S, Maritz T and Koberstein H (2011) Components of genotype by environment interaction among SASRI regional breeding and selection programmes and their implications. Proc S Afr Sug Technol Ass 84:363-374.
Qualifications
PhD (Genetics), Punjab Agricultural University, India.
MSc (Genetics & Plant Breeding), P.D.K.V, India.
BSc (Agriculture), P.D.K.V, India.
The SASRI herbarium has identified two new species within 3 years. These are Tripidium demetae and Saccharum cultum. These are contained both in the living collection and type specimen are also contained within the herbarium collection.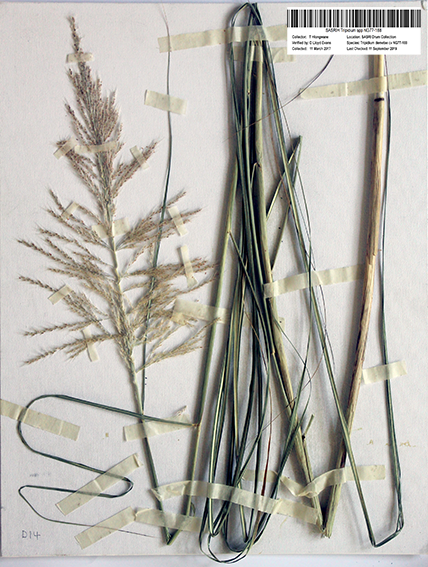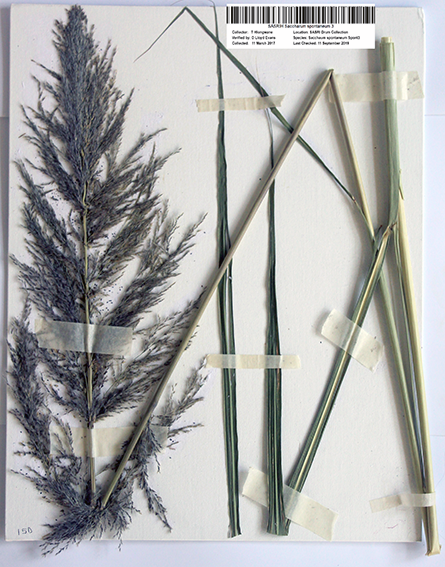 Specimens text paragraph here