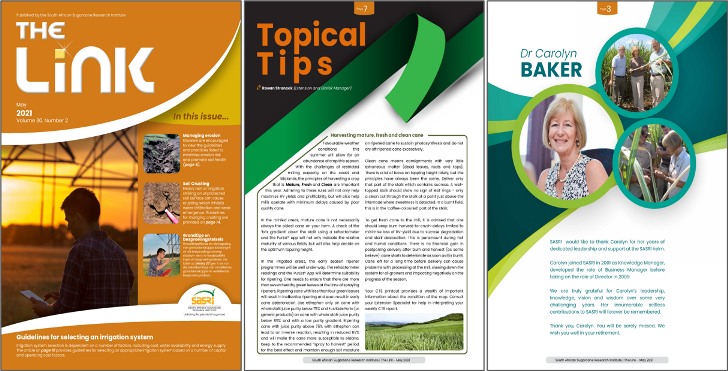 The Link: May 2021 is accessible on our website. This edition highlights a significant change at SASRI, as we bid farewell to Director Dr Carolyn Baker who retired in March this year, and welcome Dr Terence Stanger to the role.
Our regular Topical Tips feature carries recommendations for crop nutrition, pest control, seedcane planning and for harvesting mature, fresh and clean cane.
This edition is also packed with valuable information on soil management and irrigation systems. An article on soil loss explains why erosion has been considered the primary cause of soil degradation, leading to the loss of topsoil and soil organic matter. We offer guidelines on practices to minimise risk and promote soil health. The development and effects of surface crusts are also emphasised together with practical guidelines for managing this phenomenon.
In keeping with the theme of soil health, we highlight why soil physical characteristics collectively have the potential to impact irrigation practices and design, as well as irrigation efficiency. In a separate article, we provide strategies for selecting irrigation systems with information on various costs involved.
The Fertiliser Advisory Service (FAS) at SASRI is showcased, describing how it provides high-quality results and recommendations you can trust. This edition ends with a summary of recent weather events, and a look at weather predictions for the rest of the year.
Download your copy now!