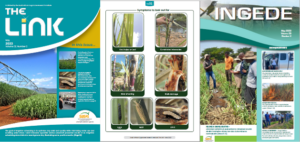 The Link and Ingede: May 2023
The Link 
The May 2023 edition of The Link is now available for download, featuring a wealth of informative content.
Our Topical Tips section provides timely and valuable advice on sugarcane farming, covering topics ranging from maximising RV yields and cane quality to land preparation, soil conservation, surface water management, seedcane, pest and disease control.
The edition also includes a discussion on the proper use of herbicides to minimise the misuse, misapplication and over-application, as well as to improve weed control.
Readers can also find strategies for controlling Panicum maximum (Guinea grass, Barbi grass, or uBabe), a comprehensive guide to identifying and reporting potential threats from the pest Chilo sacchariphagus (Chilo) to the local sugar industry and news about a grower day in the Lowveld, which covered results of an irrigation scheduling demonstration trial, technology options to tackle the energy crisis, control methods for the challenging Yellow Sugarcane Aphid, and latest recommendations on chemical roguing for smut.
Ingede
The May issue of the Ingede features insightful advice from Mr. Masondo, our Small Scale and Land Reform Extension manager, on noteworthy activities spanning from April to August. The issue also showcases articles that demonstrate the benefits of fostering a positive working relationship between growers, extension personnel, scientists, and other stakeholders, such as cost savings, higher yields, and expansion. As the harvesting season is in full swing and winter is around the corner, we also delve into the significance of effectively managing fires and post-harvest fields.
Download The Link January 2023
Download Ingede January 2023
Visit the SASRI e-Library to view all our publications. .