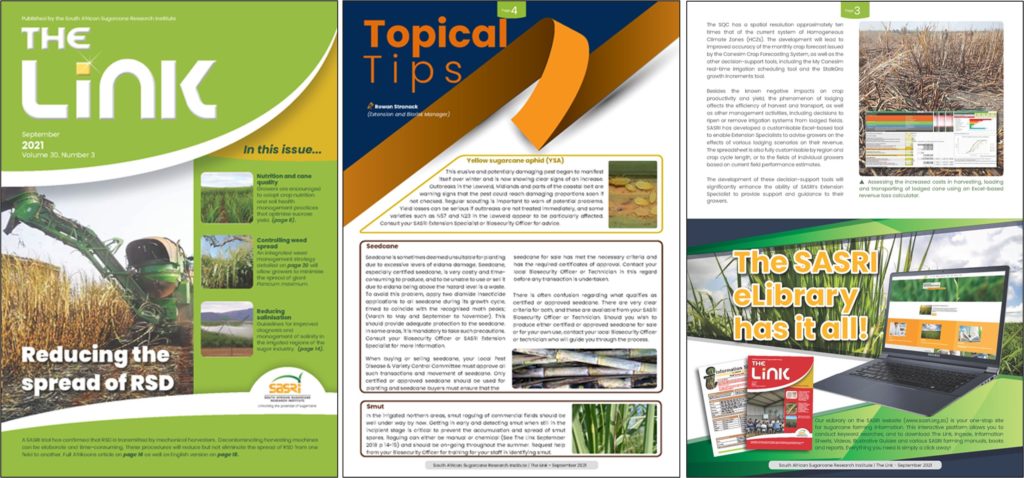 The Link: September 2021 is now accessible on our website.
SASRI Director, Terry Stanger, kicks off this edition by describing the six critical success factors embodied in SASRI's new 5-year strategic plan.
This is followed by four pages of timely sugarcane farming advice from SASRI's Extension and Biorisk Manager, Rowan Stranack. This "Topical Tips" feature provides recommendations for Yellow Sugarcane Aphid, smut, eldana, carryover cane, irrigation, flowering and other pertinent issues.
The use of mechanical harvesters increases the risk of spreading RSD. Our Senior Plant Pathologist, Sharon McFarlane, describes a harvester-decontamination procedure that will reduce the spread of RSD.
SASRI's Agrochemical Scientist, Anushka Gokul, highlights the management strategies for controlling giant Panicum maximum, a taller, thicker and hardier version of the common tufted uBabe grass. Giant Panicum maximum is being seen increasingly in sugarcane fields on the south coast.
Besides having negative effects on productivity and yield, sugarcane lodging can lead to inefficiencies in transport, harvesting and other field management activities. Agricultural Engineer, Peter Tweddle describes a SASRI-developed revenue loss calculator which quantifies the effect of lodging on grower revenue. This customisable, scenario-specific tool will assist with variety selection and harvest management decisions.
Also in this issue:
Improving cane quality through balanced nutrition by Louis Titshall (Senior Soil Scientist) and Riekert van Heerden (Senior Scientist: Sugarcane Physiology).
Reducing salinisation of irrigated sugarcane land by Rian van Antwerpen (Senior Soil Scientist)
Orange Rust Alert by Sharon McFarlane, Senior Plant Pathologist
Weather Review and Outlook by Phillemon Sithole (Agrometeorologist)
Download your copy now!