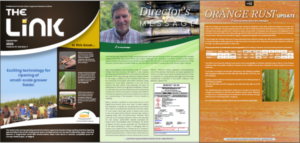 The September 2023 edition of The Link is now available. In this edition:
SASRI Director, Terry Stanger, explores (amongst other issues) strategies for tackling pests and diseases prevalent in the industry.
Rowan Stranack, SASRI's Extension and Biorisk Manager, provides comprehensive and timely advice for sugarcane farming, especially in the light of the potential occurrence of a El Niño during the upcoming summer.
Dr Riekert van Heerden, Senior Scientist: Sugarcane Physiology, discusses how crop-spraying drones can help the small-scale sector of the industry capitalise on the financial benefits of chemical ripening.
An overview of recent weather events, and an outlook for the remainder of 2023.
Other articles focus on the responsible handling of empty pesticide containers, addressing concerns about orange rust, and mitigating rat-induced damage in sugarcane.
Download your copy now.
Visit our eLibrary for copies of all SASRI publications.