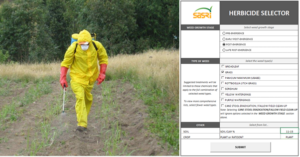 Herbicide selection at the touch of a button!
The SASRI Herbicide Selector has just been updated. This is an electronic (MS Excel) version where you merely enter the weed type, weed growth stage, soil clay%, and whether you are dealing with a plant or ratoon crop. The application then selects appropriate weed control treatments from the large number of registered chemical products available. The Herbicide Selector also provides notes for each active ingredient, and lists the trade names of registered products, together with their formulation and herbicide resistance (HRAC) group.
For situations where a computer is not be available, a printable version of the guide is available.
Download Herbicide Selector
Download printable PDF version
While this guide provides chemical recommendations, you must read and adhere to the instructions on your chemical product label.
Whilst every effort has been made to ensure the accuracy of information contained in the SASRI Herbicide Selector, neither SASRI nor its consultants or staff can be held liable for any loss or damage, whether direct or indirect, caused by the reliance on the information contained therein.